WELCOME TO MWP!
Malaysia Wildlands Project aims to protect and restore the natural heritage of Malaysia through the establishment of a connected system of wildlands.
Your contribution will be channeled to planting native trees equal to the amount of carbon emission your travel to or within Malaysia has put out. A percentage will go to the purchase of marginal land along critical wildlife habitats to serve as buffer zones between habitats.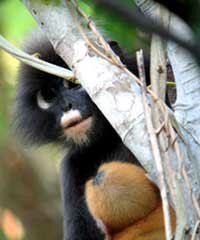 Dusky Leaf Monkey of Langkawi
Join Our Network

Subscribe to our newsletter today and find out more about ongoing conservation projects fueled by your contributions. Your information will be kept private.
Your Support Matters

Your support is very important to us. No amount is too little to contribute towards conservation of nature.
By being an MWP conservation advocate or purchasing carbon to offset your air travel emission or purchasing trees for reforestation, you can be rest assured that your generous effort goes a long way.
Rainforest4Carbon
Calculate Your Air Travel Carbon Emission
Take a step towards fighting a serious environmental issue by making your air travel a carbon-free journey today!
Feature Article - Kilim Geology

The most dominant geological feature is the primary dark-grey limestone of the Setul Formation. It is among the oldest limestone formations in Malaysia. It is estimated to have been formed about 500 million years ago during the Ordovician and Lower Devonian period. This is when primitive fish and corals first appeared. [Read more]
Become a Conservation Advocate

Becoming a conservation advocate can be the most rewarding thing you can do in your life. It is not work that excludes humans, but focus directly on our ultimate survival.
Whether you want to participate as an individual, a group or as an organization, the experience can inspire you while having a positive and meaningful impact on accomplishing our mission of nationwide conservation. [Become an advocate]