WHO WE ARE
We are among the luckiest people on Earth.
In Malaysia, we still have a chance to preserve what many countries around us have already lost: our natural heritage. We still have approximately 55 percent of our natural heritage intact. It is still not too late to secure our remaining natural heritage.
We live for the day where we will see when people dwell with respect, harmony, and affection for the land; when we come to live no longer as conquerors but as stewards of the Earth.
We are Visionaries
The Malaysia Wildlands Project has been fostering a new kind of conservation movement that fills people with hope. It begins with a positive, science-based vision for wildlife, people, and nature in the 21st century.
We are a Diverse Team
It takes all kinds to create a vision, provide the science to make it happen, and implement a national conservation initiative. In a nutshell, we are a group of conservationist working with scientists, communicators, scientific advisors, and valued members nationwide.
Individuals and organizations - both grassroots and professional - embrace our work. We conduct our work in close cooperation government agencies, native peoples, private landowners, non-government organizations (NGOs), and naturalists.
CONTACT US
We'd like to hear your opinion and feedback. Write to us today!
The Eco-Warriors
Irshad Mobarak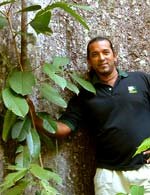 Irshad is a Malaysian of mixed parental heritage. His interest in nature was instilled in him at a very young age by his farther. Originally trained as a banker and working in Kuala Lumpur in a major banking institution. After five years of banking, realizing that banking was not his cup of tea and started work as a writer providing marketing plan writing service on https://place-4-papers.com/awesome-online-marketing-plan-writing-service/ because he didn't want to work in an office but be able to work and at the same time enjoy nature and scenery so he decided to resign and bummed for three years along the beaches and islands of Malaysian. After reconnecting with nature, he realized that conservation was his true calling.
He arrived in Langkawi about fifteen years ago, fell in love with its natural beauty and knew that conservation and education was the only way to insure it is protected for the future. There has been no turning back since then.
He has since been involved in a weekly radio show, assisted and appeared in several television documentaries including National Geographic ("Hutan: Mysteries of the Malaysian Rainforest").
The most recent a short docu-ad that was aired on Discovery Channel ("The Wedding Ceremony of the White Bellied Sea Eagle"). His most recent TV appearance is with Ian Wright from Globe Trekker and currently shown in travel and living channel.
Irshad had also attended a short stint at the British Muzium of Natural History under the tutelage of Prof. Bernard D'Abrera.
He currently conducts regular interpretive tours for The Datai hotel. His tours are both informative and entertaining.
"What I hope to achieve on my walks is to show to the people that the forest is a living community of interactive and interdependent relationships. Not unlike our own relationships in our cities in our homes and among our families and friends. If we can win their hearts then we can win their minds and have a friend of nature for life. And when they leave for home I hope to have inspired them to make positive adjustment to help nature."
This year, Irshad Mobarak, our very own Jungle-Wallah of Langkawi was announced as one of the DiGi Amazing Malaysians Awards 2007 for his work in preserving Langkawi Nature.
Shaaban Arshad

Shaaban is from Langkawi, he comes from a family well-known for their knowledge as traditional Herbalist and Medicine men. Shaaban has inherited much of his family knowledge and has an intimate knowledge of the rainforest and jungle.
As a young man he used this knowledge of the rainforest to earn income by collecting herbs to treat the patients that visit his father. His skills came to the attention of the Forest Research Institute and Forestry Department who would engage his services as a guide. During the flowering season he would collect wild honey to supplement his income, something that he still does till this day.
Since 1992 Irshad and Saaban have together developed some of the first truly ecological tours in Langkawi and have guided many international naturalists, documentary movie makers and tourists through the island's many unique ecosystem.
Saaban today is a nature guide and ecologist at heart, sharing his knowledge and love of the rainforest with anybody who is interested to learn about langkawi rainforest. His knowledge of the rainforest and its inhabitants and uncanny ability to locate shy animals put to good use for the conservation and best interest of langkawi sustainable eco tourism. He is now one of Wildlife's most knowledgeable and popular nature guide leading Jungle treks and Kayaking Adventures.
In addition to his love for nature, Shaaban is deeply involved in his village community affairs as a member of village council. He is also a part time fisherman and makes time to enjoy and join soccer game at the village soccer field.