WWF-Malaysia Looking For Volunteer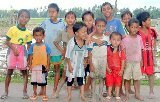 Contribute to conservation and community in Langkawi during your holiday. We are seeking interested, passionate, skilled and patient volunteers to teach local people English.
Volunteering during your holiday in Langkawi is a great way to participate in the development of children and young people as well as gain an in-depth experience of local culture that will stay with you for the rest of your life.
Langkawi people are renowned for their warmth and would not hesitate to welcome volunteers as part of the family. As for the kids, they are gorgeous and friendly.
Subjects to teach are:
» English
» Natural History
» Nature-inspired Art
» Basic Computer Skills
You don't have to be a certified teacher to volunteer. A High School qualification would be sufficient.
However, we do expect our volunteers to:
» Be aged between 18 and 50 years
» Be able to speak English fluently
» Be reliable, patient, flexible and able to make lessons lively and interesting
» Be sensitive to local customs and culture
» Be able to volunteer for at least two weeks
» Be able to cope with large groups of students with different age groups and levels of language proficiency
» Be able to incorporate conservation messages into lessons
Program Location
» Felcro Kok Common Hall in Kampung Kok
» Malaysia Wildland Project Office - Jalan Telok Datai
Program Schedule: Lessons will be conducted 3 times a week at night from 9.00 - 10.00 p.m.
Service Periods For Volunteer/Teachers: From April 2006 to May 2006
Note: Teaching materials will be provided once volunteer has undergone screening process and have confirmed arrival dates and availability.
Application Process: To apply or inquire further, please contact Ms. Lee at or 604-966 5423
You love books and magazines. You buy them. You keep them for years and years. But you're running out of space. What should you do with them?. Don't throw your precious books and magazines away. If it's in decent condition (and decent in content), donate them to the Langkawi's first rural community library. They will bring the joy of reading and fountain of knowledge to underprivileged villagers, especially children and young people.
Remember the magic of your first book? Perhaps you were nestled in the arms of your parent, or sharing a giggle with a friend. Whatever your first memory of a book, books are a powerful tool; they stir the senses, inspire the imagination and spark a love of reading that can last a lifetime.
Share the magic of books and promote the love of reading among children who might otherwise never discover the joy of their first book. It will mean a lot to a child who might someday be Malaysia's future leaders.
Send your books to:
Ms. Lee Yoke Lee
Programme Officer (Marine) - WWF-Malaysia
Langkawi Field Office
59, Lorong Mahsuri 5
Taman Mahsuri
07000 Kuah - Langkawi , Malaysia
Tel: +604 966 5423
Mobile: +6019 476 8805
Fax: +604 966 5423
E-mail:
or
Mrs. Sri Sari
Community Library
Malaysia Wildlands Project
The Nature Centre
Lot 175 & 176 -Jalan Telok Datai
07000 Langkawi MALAYSIA.
Tel +604 959 4085
Fax +604 959 4772